Katey Handel still remembers the fear she felt more than a decade ago when – at 17 – she woke up to a scruffy man towering over her.
"We can do it easily," she recalled telling him. "Or we can do it the hard way. But you come with me.
It was 2008. Handel was living in Louisiana and had just found out she was pregnant. It had been a crisis for her family, she recalls. His older sister had come to visit and found them a hotel room to talk and spend time together.
Handel had no idea why there were now two strangers in this room, one of them grabbing her from her bed.
"I felt like I had no choice," she said. "So I went with him. I knew then that I was pregnant. So, I didn't want to go the hard way, whatever route that meant.
That man was Daniel Taylor, who at the time ran a youth treatment center in Cedar City, Utah called Integrity House. He had gone to Louisiana to bring Handel to his establishment with his parents' permission. Surprising her in the middle of the night was part of the plan.
Outside the hotel room, Handel's father was waiting in his SUV, she recalled. He was told to ride in the back with Taylor. Her father then drove them to the airport and Taylor flew with her to Cedar City, where she would stay for the next four months.
The way Handel was taken to Utah is a common tactic in the so-called "troubled teen" industry. With a parent's consent, two people are sent to surprise their child while he is sleeping and forcibly take him to a wilderness program or residential treatment center.
These programs, many of which are based in Utah, sometimes send staff like Taylor to pick up the children. Parents can also hire a "safe transport" company whose sole purpose is to accompany teenagers to treatment centres.
This shadowy corner of the teen treatment industry is almost entirely unregulated. Carriers hired by parents can drag children from their beds, handcuff them, hold them or blindfold them. Oregon is the only state that has restricted how these companies can bring children across state lines.
In Utah, a lawmaker who recently sponsored a bill bringing regulatory reform to the state's burgeoning teen treatment industry said he wanted to take a closer look at how children in people from all over the country travel to Utah for treatment.
Some former residents say the experience had traumatic effects that lingered into adulthood, long after leaving a treatment center.
A booming industry in Utah
There are over 100 accredited youth treatment programs in Utah. They are aimed at parents and outside agencies dealing with troubled adolescents.
Some are smaller group homes, tucked away in suburban neighborhoods like Integrity House, where Handel was sent. Others are vast horse ranches or large boarding schools. There are also wilderness therapy programs, which require teens to trek across Utah's vast deserts and public lands.
Since 2015, some 20,000 children have been sent to adolescent treatment programs in Utah. The children come from wealthy families and foster families. Some are on juvenile probation. They may be struggling with drug abuse or eating disorders. Some are depressed or defiant. Some cut themselves or attempted suicide.
Teenagers contribute hundreds of millions of dollars to Utah's economy each year, according to University of Utah estimates. And new data analysis from APM Reports, The Salt Lake Grandstand and KUER shows how outsized this industry is in Utah compared to other places.
For more than six years, from 2015 to 2020, 34% of teens who crossed state lines to enter a youth treatment center landed in Utah. This means that Utah receives many more children than any other state. On average, Utah receives nearly 3,000 children per year. Virginia and Texas — the next two most popular destinations where troubled teens are sent for treatment — receive between 1,200 and 1,300 children a year.
---
More children are placed in Utah than in any other state
Every year, thousands of children and adolescents cross state lines and are placed in treatment centers. Utah, which hosts nearly 3,000 placements a year, dominates the sector. The table below shows child placements in Utah and the 15 closest states. Unrepresented states conduct an average of less than 100 internships per year.
SOURCE: Interstate Child Care Compact (ICPC) data, 2015-2020, requested from each state. Not all states provided data for every year, and one state provided no data. The ICPC counts each time a child is placed in a treatment centre. A child could be placed in different treatment centers over the course of a year and would be counted each time they are placed in the care of a facility. To compare annual averages, APM reports normalized the number of placements using the number of years of data reported. DATA: Will make
---
Many of these children bound for Utah arrive through a "secure transportation" company, where parents pay thousands of dollars to have someone pick up their child and take them away.
At a St. George transportation company, parents pay nearly $2,500, plus airfare for two employees and their teenage boy, if needed.
Taylor, who helped run Integrity House for nearly a dozen years, often picked up residents. Whether or not the transport was a surprise, he said, often depended on the child's parents. "Sometimes parents worry about not coming, or running away or whatever," Taylor said in an interview with a reporter on the Sent Away podcast. "So they'll keep it hidden until we show up."
A vote for transport regulation
Stephanie Balderston will never forget when Taylor got her into the back seat of a car, taking her from her life in Colorado to Integrity House in 2008.
She still has nightmares, she said, waking up in the middle of the night crying after reliving that moment Taylor pulled her into a car as she screamed for help. Her parents were watching nearby, she recalls, crying but doing nothing to intervene.
"It really is like the most inhumane, craziest thing you've ever experienced in your life," she said.
This memory also haunts Balderston during his waking hours. She sees men who look like Taylor in a store and she is seized with a wave of fear.
"Like at Costco or something, and you look up and you see a random person. And in my head, it's him," she said. "And I'm freezing. And I'm terrified. And I'm starting to have flashbacks of my transportation and being at Integrity House.
Last year, Utah State Senator Mike McKell sponsored legislation that marked the first reform of Utah's troubled teen industry surveillance in 15 years.
The law placed limits on the use of restraints, drugs, and seclusion rooms in youth treatment programs. It required facilities to document any instances in which staff used physical restraints and seclusion, and it required them to submit reports to state licensors. It also increased the required number of inspections that state regulators must perform.
But that legislation placed no limits on what people who transport children to adolescent treatment programs can do — something McKell said he hopes to address in the future. "I don't think the way we transport children is appropriate," he said. "I'm convinced that if you start a treatment program with extreme trauma, common sense says it can't be good for children. And I just think it should be completely banned.
Oregon's limits on what carriers can do when bringing children into its state for treatment were only recently enacted, in 2021.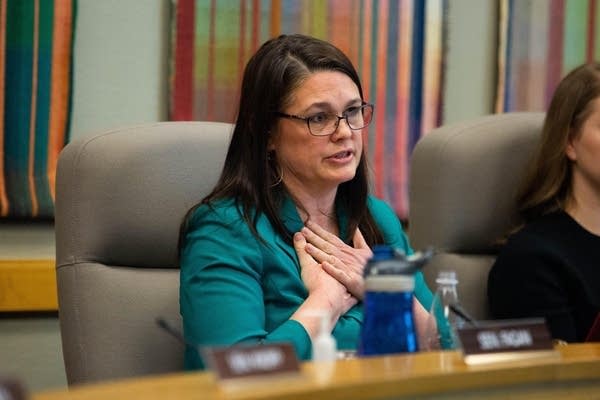 This legislation, introduced by Oregon State Senator Sara Gelser Blouin, requires people who transport children to Oregon facilities to be registered with the state Department of Social Services. It also prohibits carriers from using mechanical restraints, such as handcuffs, when taking children to facilities.
"No more balaclavas, blindfolds or handcuffs," Gelser Blouin said during a floor debate last June. "It is not children who have committed crimes. These are just children that parents have a hard time with. And some are in dire need of care or support, but not blindfolds, hoods, and handcuffs. »
McKell said he sees this as a problem that can only be solved by federal regulations. Since children move from state to state, he said, it is difficult to regulate conduct that occurs outside of Utah before a young person arrives for treatment. .
There has recently been a push to bring federal oversight to adolescent treatment programs nationwide, but the Collective Care Accountability Act has yet to be formally introduced or debated.
In the meantime, McKell said he wants to start understanding the scope of the transportation services industry in Utah. He sponsored a bill this session that will now require transportation companies to carry insurance and be licensed by the state — but he is not enacting any regulatory or oversight measures.
"There have been serious allegations of abuse in the past," McKell said. "I am concerned about children being picked up in the middle of the night and the trauma that creates."
Sent Away is an investigative podcast from APM Reports, KUER and The Salt Lake Grandstand. The report is funded in part by Arnold Ventures, the Corporation for Public Broadcasting and the Hollyhock Foundation. See more collaborative reports.
Don't miss our next survey
Enter your email below to receive notifications of new stories.